To me Twitter is one of the easiest platforms to build an audience on and push out content on. You can easily automate a lot of work with various tools and its open, real-time nature means you can repost content and interact with others in a way you would not on any other social media network. Think about this, you're sitting there on your Facebook giggling at how funny you are when suddenly a branded Facebook page comments on something you posted with the 'laughing with tears' emoji x 3. This would probably be seen as an intrusion of your privacy on Facebook, even if you don't understand Facebook's settings and your post is set to public. If this same scenario played out on Twitter there's a good chance that you would have the exact opposite reaction, feeling good that a brand interacted with your tweet instead of being annoyed. This is because we tend to think of Facebook posts as one-time permanent things and Tweets as one-time things that fade away quickly. It's this perception mixed with the very open nature of Twitter that can make it powerful.
The problem is most businesses don't understand how to grow their Twitter followings or how to extract any value out of those followers. On Facebook a business with 500 "Likes" might feel accomplished especially if they are a physical location because Facebook will encourage check-ins, reviews, and other things for people who go to that place of business – making the business feel like their social media marketing might be working, and if not it's often seen as something you just have to do. Because of how we perceive posts on Facebook even a company with 250,000 "Likes" might be satisfied with 25 likes on a post, imagining that this means some of their audience understands and will take action on the marketing messages pushed out via that platformPlatform noun Any website, mobile app, SaaS, or other digi.... Facebook also does a much better job (though I personally feel like they don't do as much as they are capable of) of giving business owners tools to discover their audiences and interact with them. Twitter falls way short of providing free or even paid tools that add much value in helping businesses leverage the real-time aspect and the open nature of their platformPlatform noun Any website, mobile app, SaaS, or other digi....
If any of the above describes how you feel about Twitter, then this post is for you. The first thing I find important for Twitter is that Google has a direct feed of all Tweets. There's quite a bit of debate on how this feed is used, but if you care about SEO you should also care that your business and content is seen wherever they are looking. If you're a business owner who thinks Facebook is just something you do, then you should think the same about Twitter at the very least and ensure that you have a nice steady stream of Tweets going out with links to your content and even your products / services.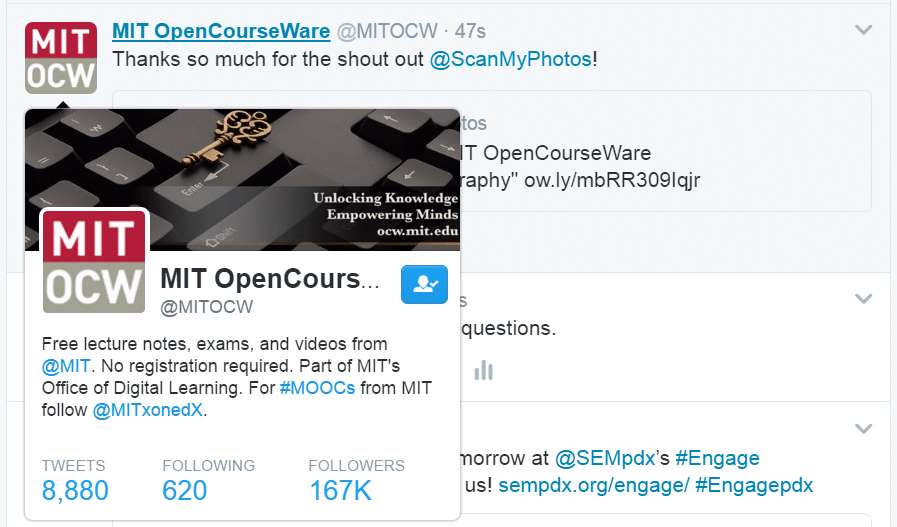 One of the best ways to get more attention on Twitter is to get authoritative accounts, those with follower counts in the 6 or 7 figure range, to retweet you. This helps get your brand exposed to a small portion of their audience and might score a few followers for you. Of course it might also do nothing, depending on the time of the retweet (also known as RT) and when their audience engages the most.
I've found the best way to get big accounts to retweet you is with Ego Tweeting. Ego Tweeting is when you send a tweet to an account talking about how great he / she / they are. In business this can be a recommendation or even a product review. The tricky part is the research that goes into your Ego Tweeting campaign.
EGO TWEETING RESEARCH
1. You'll want to start by finding high follower accounts that might be related to your business and making sure you don't Ego Tweet any of your own or your client's direct competitors. Twitter's search and even their Advanced Search just aren't up to the task of helping you find high follower accounts to ego tweet to.
Instead you can use Social Bearing's "People" search tool. With this tool you can search for a keyword and sort profiles by highest follower count. Unfortunately there's not a way to export this list. You can perform a similar search using Moz's Followerwonk tool which allows you to export the list, though I've found Social Bearing's results to be far higher quality.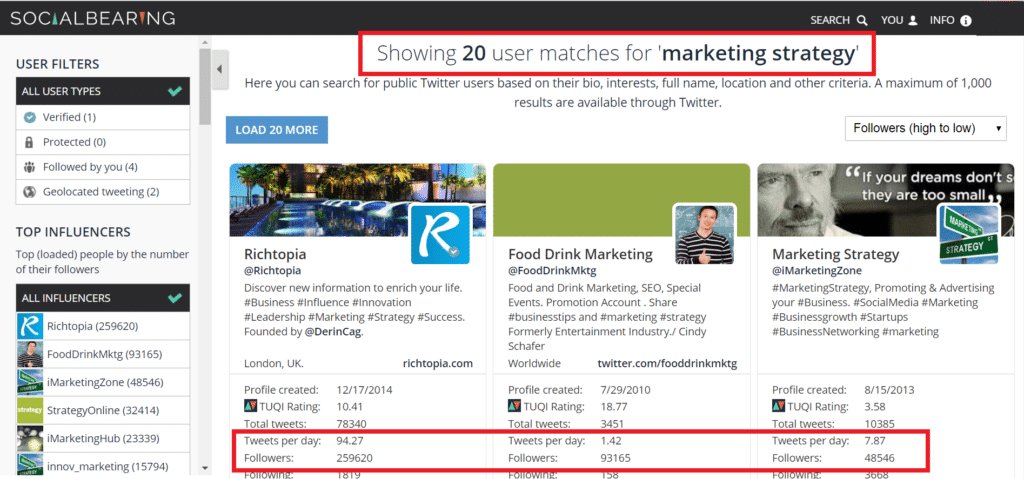 2. Take all of the results you find an put them into an Excel Spreadsheet / Google Drive Sheet with their TWitter Handle, Website URL, and Follower count.
3. Share this document with your boss or client and ask them to mark any accounts that might be a conflict such as a competitor or a person/brand that works with your competitor.
4. Once the client has returned the spreadsheet to you with their notes start with the highest follower count and examine their profile. You want to make sure that the account is actively tweeting posting at least once in the past few days and that in the last few weeks or months the account has retweeted someone (this is most often visible under 'tweets and mentions'). It doesn't matter if you don't notice any other Ego Tweet RT's in their stream, you just want to make sure that they are open to doing so.
Writing your Ego Tweet
1. Now that you have the account qualified you want to figure out how to RT them. If it's a product manufacturer or retailer tweeting a product review of something related to your business with 5 star emoji's or a GIF or something like that should get their attention. If it's something like a government or non-profit account try and tweet to them about the things they are doing or taking a stand for.
2. When you write your tweet you should also try and use a hashtag related to your business. Remember you can't really control when another account retweets you, but using a hashtag you can at least ensure that their retweet is seen by accounts that might be looking at a hashtag conversation. If you're not sure what hashtag to use, try the RiteTag Twitter hashtag tool to help find a good hashtag to target.
3. Your ego tweet should be genuine, don't go making stuff up. If you haven't done business or read the content or whatever it is that top account does, don't tweet at them just trying to get attention. This is spam and gives us all a bad name. Instead take some time to evaluate the account and what they do. Your tweet won't just appear to be genuine, it will be. Remember you're trying to get a social media manager's attention and they probably have seen a lot of spammy tweets.
What do you get out of Ego Tweeting? Sometimes nothing. Sometimes you get good engagement with your followers that also follow the targeted account. Sometimes you get new followers from the targeted account. And sometimes you just get your boss to see that there might be value in this Twitter thing after all.
An Ego Tweeting campaign is just one weapon in your Twitter Marketing arsenal and it'll likely take more than one ego tweet to get great results. Here is an example of an Ego Tweet I posted this morning:
And here's MIT's OpenCourseWare Quote Tweeting one a few weeks ago:
You'll notice the target account didn't RT my recommendation, but a follow up tweet to one of my followers asking why I recommended this marketing strategy course. Which, btw, I really do recommend. MIT OpenCourseWare is awesome.