Hello everyone. This is the first week of a new weekly series I'll be doing called Tool Highlight Tuesday. Each week I'll take a few minutes to focus on a digital marketing tool and show you at least one way it can be used to boost your digital marketing efforts.
This weeks's video is about Rite Tag, a social media optimization tool that helps marketers optimize their tweets and Facebook posts. Rite Tag has a lot of awesome paid features like their Auto-Enhance feature, massive library of free to use images and GIFs, their emoji adder, and their stockpile of hashtag data – all accessible for a small monthly fee via their Chrome extension and mobile app across platforms including Twitter, Facebook, Hootsuite, Sprout Social, and Tweetdeck.
This week I want to focus on a part of their tool that you can access free of charge, the hashtag data. Simply go to their website and sign in with your Facebook or Twitter account and ignore the pricing structure message you'll likely see. In the top right hand corner click on the magnifying glass icon and type in a keyword or hashtag. This should display a page with data on various hashtags containing the keyword you typed. The data includes Unique tweets per hour, Retweets per hour, Exoposure per hour, % of tweets containing an image, % of tweets containing a link, and % of tweets containing a mention of another Twitter user.
Each hashtag is highlighted in a different color. Green, Blue, Red, and a light faded color. The Green colored hashtags are the best as they represent hashtags that are "hot" now meaning they are currently popular, the Blue hashtags are the second best as it means they get used at least periodically, the Red hashtags are overused and get too many tweets per hour so that your message will get buried quickly, and the faded one's are not currently in use.
You can also click the graph icon to the right of a hashtag on this page and get more information about it's users such as popular countries, languages spoken, accounts associated with the hashtag, and how the hashtag is related to others.
Something I don't cover in the THT video but wanted to talk about here is the icon next to the graph icon on this page. Clicking it supposedly uncovers popular hashtags related to the keyword you typed in. This brings up some interesting results. Keeping with the example in the video I tried using the hashtag "#Table", looking for popular hashtags related to it gave me some odd ones such as #Whore, #Iowa, and #CFC. It did give me a few good hashtags that would probably work like #InteriorDesign and #Design.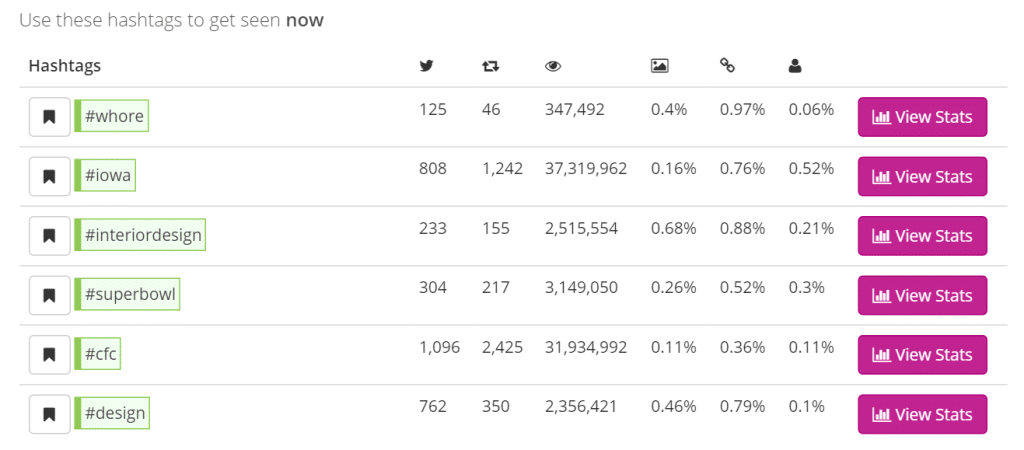 One thing I wish this tool had is the ability to see average engagements per hour of the day. Maybe that's added in the paid version, I'm not sure. But it would be really helpful to get your tweet out right at the time of day when the influencers in X hashtag are engaging the most.