This is a subject I don't write about a lot, typically when I find a problem with a client's AdWords accounts someone who has far more PPC clients than me or Google themselves have already posted a solution to the problem. If you're one of my 10 regular readers don't be surprised if you don't see another post about AdWords for a long time.
I recently had a client come on board with a peculiar problem. They wanted to use location extensions from a Google My Business Account but they had their AdWords running under a different account. The account with the Google My Business is essentially not used for another, the other account is used to update and manage their Google presence. Out of the solutions available I figured the simplest one would be if I could somehow get the Google My Business account attached to the Google Adwords account. A bunch of Google searches, a few frustrating days, and the prospect of utter defeat made me start thinking the only solution would be to tear down one of the accounts and rebuild everything from that account on the other. Before I went through with this I decided to ask a friend and colleague for help. I reached out to noted PPC and Digital Advertising expert and badass Susan Wenograd on Twitter. Susan had clearly heard about this problem before and thought if I added the account where the location data was as an admin to the Google AdWords account then I would be able to see the data and use it. Unfortunately, this did not fix the issue. However, it did get me close enough to figure it out and I've documented the steps here to help others that might be having the same issue.
1. [Optional] – Give the Google My Business Account Admin Access
Grant the account with the Google My Business location data admin access. To do this login to your Google AdWords account, then click on the gear wheel at the upper right hand corner and select "Account Access". Click on the red button that says "+ Users". Here you'll add the account by entering the email address and name then selecting the "Administrative Access" access level.
I did this to start, but it doesn't appear to be necessary for sharing business data. Still if you're finding yourself logging into both it might not be a bad idea as you can do all of the following now while logged in as the Google My Business account.
2. Request Access to the Google My Business Location Data
Now you'll want to request access to the account's Google My Business Listings. To do this navigate to the "Ad Extensions" tab, then select "View Location extensions". Click on the red button that says "+ EXTENSION". You'll get a dialogue box with two options to either "Select a Google My Business Account" that you already have access to, or the second option "Request to link a Google My Business account". Select the second option and enter the email address of the account where your business listing data is.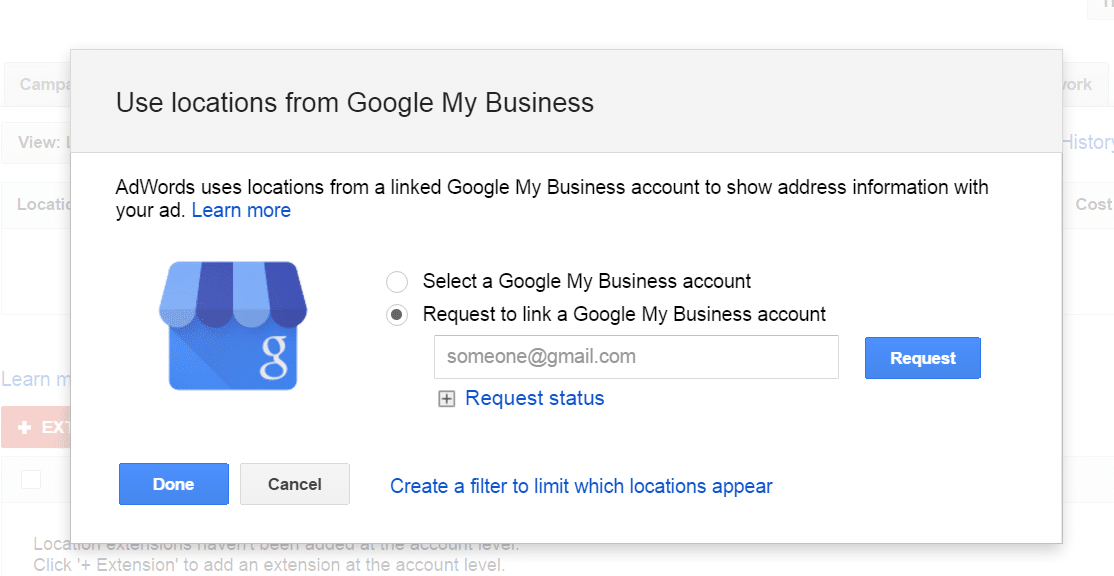 3. Approve the Request for Access to Google My Business Data From AdWords
Next you'll need to approve the request for access. To do this go back to the account where the business listings are. When you login you won't see a popup message or anything else notifying you of the request. However, you should now see a new navigation option just above your business listings titled "AdWords Accounts". Click on this option and you'll be taken to settings for the account to share access to Google AdWords. You should be asked to approve the request you sent in the previous step. Once you do this the two accounts will be linked and the Google My Business Location Data can now be used as Google AdWords Location Extensions.

4. Use The Location Data as a Location Extension in AdWords
Great, you should now have access to your Google My Business Listing data in Google Adwords. We now want to use it for an ad campaign. To do this go back to your Google AdWords account and head for the campaign where you'd like to use the location data. Once there click on the "Ad Extensions" tab, select the "View Location extensions" option in the drop down, then click on the red button "+ EXTENSION". Once here you should get a message asking you if you'd like to filter your results. You can use all of the locations, create a filter to find the extensions you want, or select each one manually. In this example the campaign is tightly focused on one geographic area where only one location out of the account existed so I used the option "Locations I Pick" and selected the location.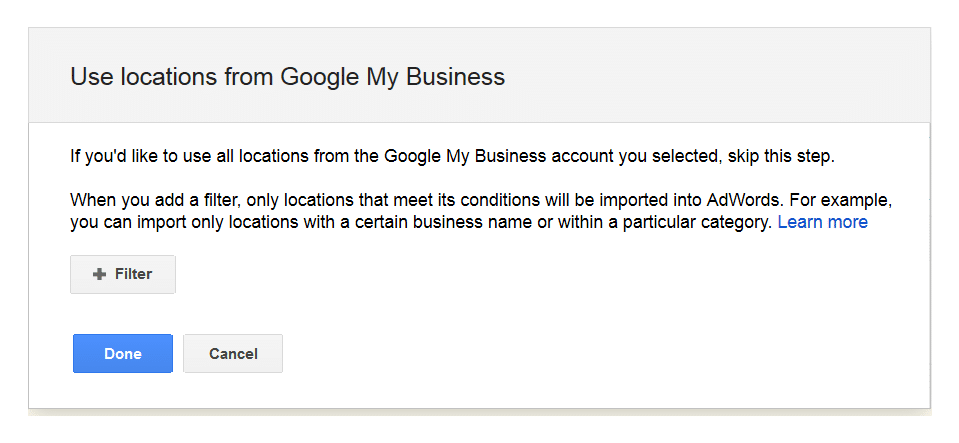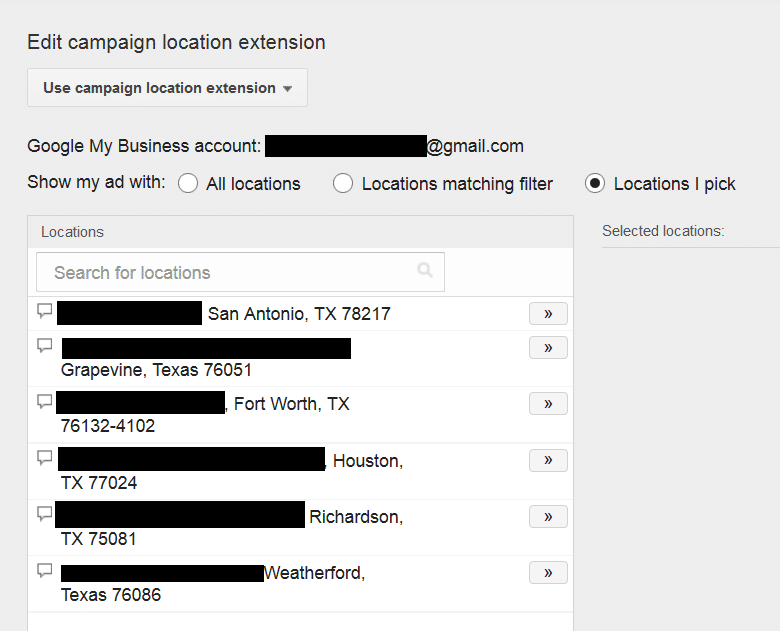 Hopefully you found this helpful. If you have additional issues combining a Google My Business Account and a Google AdWords account let me know in the comments. I'll try and help you figure it out.