I eat out quite a bit and there are five pretty huge mistakes that I've noticed restaurants and bars making over and over and over and over and over and over and over and over again. In hopes of never witnessing these atrocities again I've decided to cover them here instead of writing a well thought-out email to each one I see that no one will ever read anyways.
1. Using commanding / sales language on Social Media channels
It's not that you shouldn't post your specials from time to time on social media, it's a good way to get them out there. But posting them every day, and with commanding language, or making it the only form of content you generate leads to lower engagement with your audience and that probably translates to lower sales. An example of this is the DFW area restaurant chain Boomerjack's. Each one of their locations has about 3,000 or more likes but their posts only get about 2 likes on average for an engagement rate of about 0.06%, national competitor Buffalo Wild Wings tends to do better on the pure volume of engagement on their main page but not percentage wise, however, one recent post brought in a 0.4% engagement rate. My guess is this post was used in a Facebook Ad and/or Boosted by BWW.
Back to Boomerjack's, in most of 2013 their updates attempted to be creative for each store location but garnered very little engagement, they started posting their drink specials and correlating them to an upcoming sporting event, stripping away the personality they had been displaying. Instead of one or the other, restaurants should try and have a delicate balance between the two types of updates. Boomerjack's could use a main corporate page much like Buffalo Wild Wings does for really creative posts, announcements about new locations, etc.. and take out Facebook Ads or Boost those posts for visibility in their target markets while allowing the local stores to continue talking about local specials for sporting events on each individual locations page.
Restaurants with only one location should work to mix up their posts between specials / events and posts that the target audience might enjoy such as talking about sports for a sports bar.
More ideas for posts by Restaurants / Bars to diversify the type of messages on Facebook include:
Photos from past events
Review Highlights
Questions pertaining to audience psychographics
Food / Drink highlights
Food and drink pairing combinations
Cheering on local sports teams (minus the call to actions like "come here", "drink here", etc… one of Boomerjack's most popular posts of all time include the phrase "Let's Go Cowboys")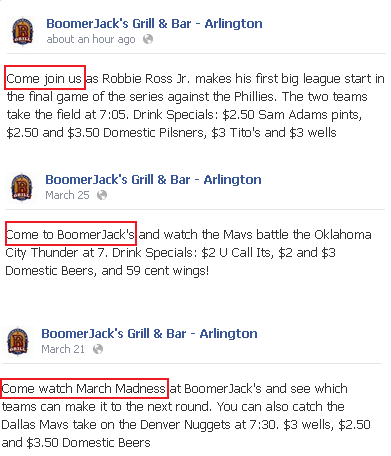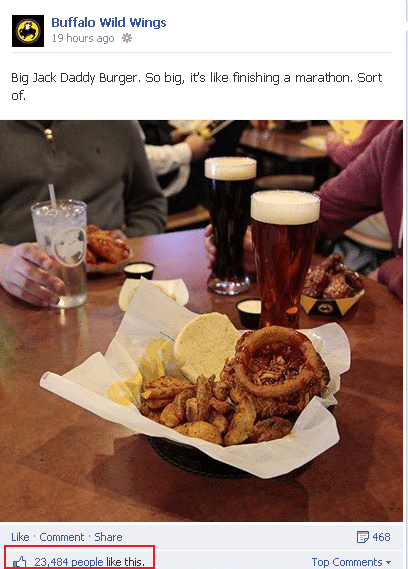 2. Misusing QR Codes
I happen to be one of the ~5% of people that like and use QR codes, but scanning one in a restaurant almost always leads to complete disappointment. Most restaurants seem to think that QR codes can be used to get people to like their facebook page or follow them on Twitter. I have no idea who started this trend, but I hope they are off somewhere laughing and counting their $$. When a QR code is scanned for Facebook it doesn't open the Facebook App but instead loads the URL in the mobile device's browser. Most people use the App on their smart phone so when scanned the browser will ask them to login. Typical conversion science will tell us that this will cause a user to bounce, since we can't really test this on Facebook following best practice is probably our best hope here. If you really want to get social media followers from a QR code try using a service like LinkPerk.com (note: i have reached out to see how to setup Linkperk.com but have not heard anything back yet, I'll update when I do.) or instead us the QR codes to build an email list which you can use to promote your social media accounts.
QR Codes, though still low usage, can have a big impact on a restaurant and bar's digital marketing and provide a tech savvy image. Instead of using them to try and drive new social media followers use them to:
Give automatic connections to WiFi
Join an email list
Place an event automatically on a smart calendar
Load a secret menu
Enhance a menu
Hide an 'easter egg' (something fun or interesting)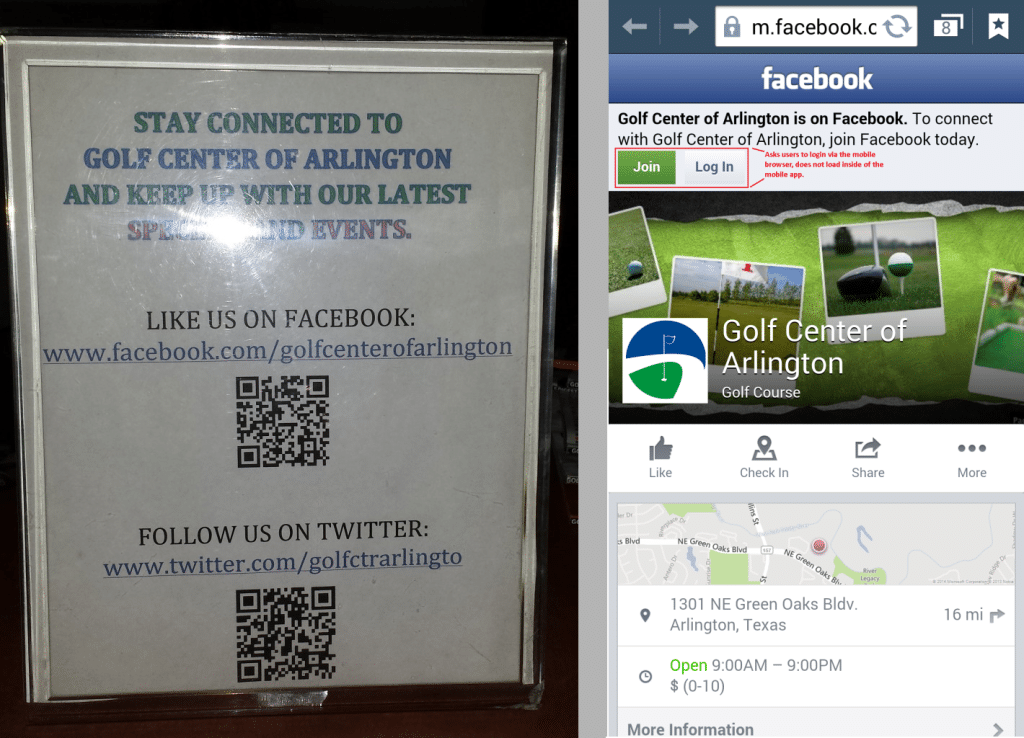 See more: QR code examples
3. Automatic music / video playing on website
This isn't the first time this complaint has been made by me or any other human with ears and a computer. Auto playing music and videos are just huge no no's for restaurant websites, let alone most websites out there. Instead users tend to want a clean looking restaurant website with large, high quality images of the food, a menu with all of the prices listed, any specials, and hours of operation and directions to the location. Thankfully this practice seems to be dying little by little, but it still seems to persist on websites like Level III, Dakota's, and Cliff House. It's time this trend got stomped out once and for all.
4. Not uploading a photo to their Google+ Local Page
When Google debuted the Local carousel they didn't exactly tell anyone that suddenly the image you've associated with your local profile might now impact your click-through rate. Now many local restaurants and even major chains could be losing valuable clicks due to this oversight. It only takes a few seconds to take a photo and upload it to your profile, so do it already, if you don't someone else might upload a random photo to your page which Google will then use as your local profile photo and as the photo for the local carousel.

5. Not using Title and other Meta tags
Meta tags help tell search engines and social media websites how to display your content. Many websites use at least the Meta Title and Meta description, but many don't take advantage of the Rel Canonical, Facebook Open Graph, Rel Lang, or Twitter Cards. For example Mexican Restaurants that want to serve both a Spanish-Speaking and English-Speaking clientele can take advantage of the Rel Lang meta tag to display their content in both languages and rank for those keywords without encountering problems in Google. Another example would be using Facebook Open Graph to display menu items that people share on Facebook.

Those are my top 5 biggest mistakes that I see restaurants making in 2014. What about you? Let me know in the comments.