Hi there SEO friends. If you're like me you love data and nothing is better than free data that doesn't suck. Especially when it's free link data. Today I want to introduce you to a tool that does what a few others do, but right now has free data you can snag. MegaIndex.com builds their own index of link data using their own crawler with 314 million domains and 138 billion urls. The tool is still fairly new and has room for improvement, but Free is a pretty attractive price tag.
If you've got smaller clients, you're just starting out, or you just want to see if there's any links out their you're not seeing in Ahrefs, Majestic, or Moz – then MegaIndex could be the tool for you. What I really enjoyed was how the tool displays it's data in the charts and graphs. Of course most similar tools do this too, but it just felt really crisp and well done, especially the Venn Diagram tool when comparing one website to others.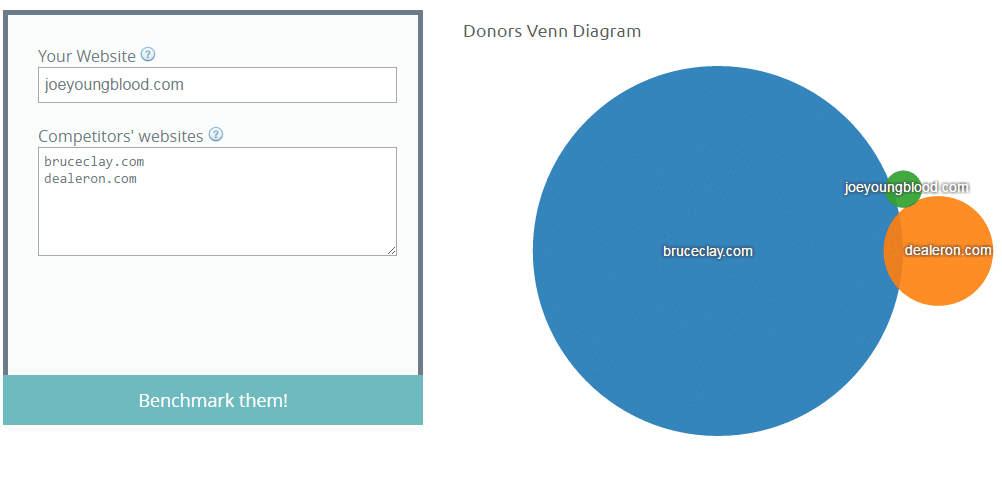 MegaIndex uses some new terminology, at least new to me:
Donor – A website that links to the site you're checking
Acceptor – The website being linked to
Bigram – A search keyword / keyphrase that uses exactly 2 words
Trigram – A search keyword / keyphrase that uses exactly 3 words
The Really Good
The MegaIndex team has been super responsive to my requests and in replying to the few bugs I've found so far. The tool also loads really fast even on my super slow AT&T U-Verse that I paid for them to make faster and it somehow got slower. I love the charts and graphs their tool makes and it's certainly primed to do really well in the SEO Martech market place.
I really enjoyed the "Donors Benchmark" and how it compares the site your examining to other sites you specify.
The Needs Improvement
Removed Links Feature
This feature purports to tell you what links it's crawler saw removed and on what date. That would be really powerful and useful, but unfortunately it's just not working correct right now. I'm sure the MegaIndex team will figure out how to fix this but in my own removed links list I saw that the only link I've ever gotten from Search Engine Land had been removed. It turns out that is incorrect as going to the page live right now will show.
I'm hopeful they do fix this feature soon and build more features on top such as alerts when links get removed or a double verification for paid users that rechecks to confirm the link indeed was removed before reporting it.

Links Over Time
MegaIndex.com also includes a links over time feature that shows how many links you've gained and lost over time. No matter what site I check this feature always seems to start right around April 8th of 2015 and there is no way to make it go back further or shorten the time frame. I'm guessing this is because the tool launched on that date or a little before and that's all well in good, but why can't I reduce the time to just the last few months?
There is also no way to see a cumulative view, such as with Majestic's tool. I enjoy the removed links portion on the chart but that has already proven faulty as shown above, so I would really like to see a way to get my stats without the removed links included.

Finally I'm not quite sure what URL the tool examines. When you give it a website URL with www. or http:// in front it strips all of that out and uses just the root domain. However, any other subdomain seems to stick including subdomains like WWW2.example.com. To me this means that the tool is actually crawling both the www and the non-www versions of a URL but cataloging everything under just the root domain. If this is the case it never tells you that when you run a query.
All in all I enjoy the simplicity of MegaIndex, some of it's features, it's fast loading time (here in Dallas), and the fact that I can surf it for free right now. To convince me to pay for it though I'd really like to see some more bugs fixed in how the tool calculates things, a slightly larger index or URLs (Ahrefs boats 2 trillion URLs, Mega Index 138 billion), and some features that I can't find with other link indexes. Still the team is getting better all the time and could end up having a very unique and useful link index that will be lucrative, especially to enterprises trying to build large datasets on their link building / earning efforts.