I was once told when I was just starting out that a conference is worth the price of admission if you discover just one new tool, tip, strategy, or tactic that improves your digital marketing prowess. That has statement has stuck with me though the years and when I attend conferences I make sure to pay attention to the tools being discussed by the speakers.
It has also occurred to me that this might be useful information for others to have and might be indicative of what the needs are of digital marketers as a whole at the current time. I'm not sure I'll do this much analysis at all future conferences, but I wanted to take a peek at the tools mentioned by speakers at the Pubcon SFIMA Summit 2017 in their slide decks. Since I can't sit in on all sessions, instead I waited for Pubcon to email out the slides. I then read over all of them looking for mentions of tools, screenshots, URLS, or logos of tool brands. I then counted them up per speaker, per tool, and per brand to come up with some idea of the marketing tool landscape as represented by the elite among us asked to speak at this event.
The Top Tools
There were 102 different tools that were mentioned by a speaker at the event. Out of those 102 only 6 were mentioned more than twice and 86 tools were only mentioned 1 time. When we look at the top 6 tools the first thing we'll notice is that Google owns 3 of them. The only non-Google owned tools to be mentioned in the top five were AnswerThePublic.com, BuzzSumo, & SEMRush. SEMRush was the most mentioned tool not owned by Google.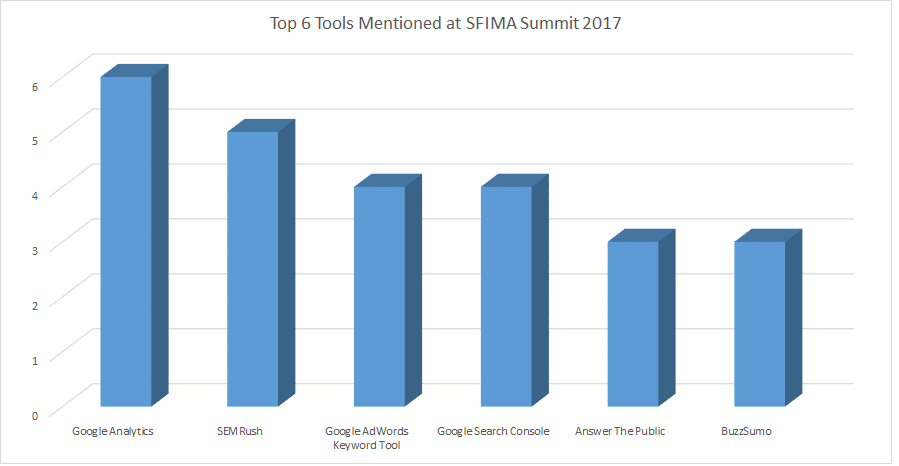 There were a total of 16 tools that were mentioned at least twice in slide decks. Here there is a much larger variety of tools and of brands that own them.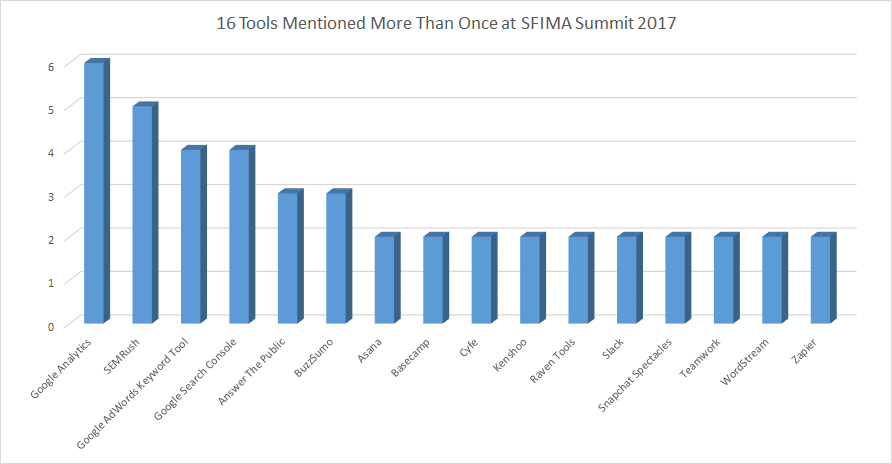 Top Influencers
Out of the 52 speakers at the summit 6 of them mentioned more than 5 tools in their slide deck. 17 speakers mentioned 2 or more tools in their slide deck. I've chose to only chart the top 6 instead of showing how many tools speakers mentioned.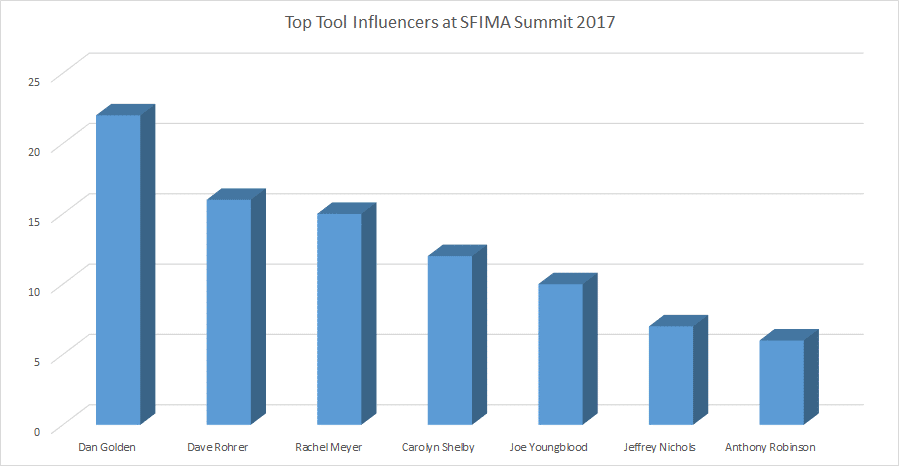 Top Brands
This is where things get interesting. Digital Marketing tools are a big business and getting more mentions at great shows like the SFIMA Summit 2017, Produced by Pubcon is a good way to increase sales and drive interest in a tool brand. These are the brands that scored the total mentions of their tools at the summit.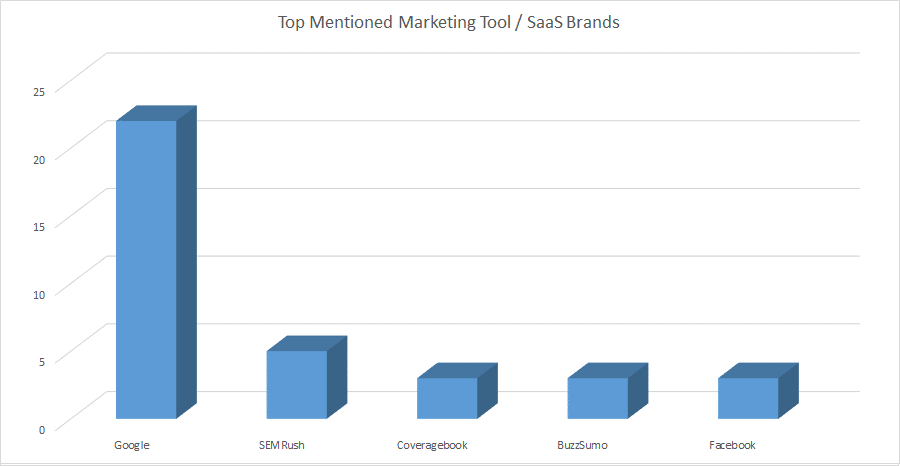 Google dominates this list with mentions of their paid advertising and keyword tools, their analytics tools, their social media tools, and their browser tools. No other platformPlatform noun Any website, mobile app, SaaS, or other digi... appears in the top five except for Facebook and Snap Inc has two mentions due to their Spectacles product/tool.
Out of all of the tools mentioned only 5 brands were mentioned 3 or more times. There were a lot of well known SEO and Digital Marketing brands mentioned less than 3 times, that list includes; Moz, Raven Tools, WordStream, Acquisio, Adobe, and Hubspot.
All of the 102 Tools / SaaS Applications Mentioned at Pubcon / SFIMA Summit 2017
Acquisio
AdGooRoo
Admation
Adobe Spark
AIM
AltoCloud
Answer The Public
Asana
Autopilot
Basecamp
Battley Inc Meeting Calculator
Buffer App
BuzzSumo
Clarizen
CoPromote
Crystal
Cyfe
DataPrizm Keyword Management
eDocr
Excerpt Editor
EzGif.com
Facebook Chat
Facebook Groups
Facebook Pages App
FAQFox
FavorPhoto
Feedly
Float
Follow
Geckoboard
GeoRanker.com
Get Custom Field Values (WP Plugin)
Google AdWords Alerts
Google AdWords Display Planner Tool
Google AdWords Keyword Tool
Google Analytics
Google Chrome Developer Console
Google Groups
Google Hangouts
Google Image Search
Google Pagespeed Insights
Google Search Console
Google Trends
GoVision HD Sunglasses
Gravity Forms (WP Plugin)
Harvest App
HREFLang Builder
Hubspot
Imgur Video to GIF
iSpionage
JSON-LD Generator
Kenshoo
Keyword.io
Klipfolio
Klout
KnowEm
MailChimp
Majestic
Marin
Moz
Moz Local
Paletton.com
Paper.li
Paymo
Pingdom
Pinpoint Predictive
Pointlist
Projectplace
Quick Cache (WP Plugin)
Quozio
Rainmaker
Raven Tools
Rev.com
Screaming Frog
Search and Replace (WP Plugin)
SEMRush
SEO Quake
SEOMonitor
SERPs.com Google Location Changer Tool
SimilarWeb
Skybox Studio V2
Skype
Slack
Snapchat Spectacles
Social Networks Auto Poster (WP Plugin)
Storybase
Supermetrics
Teamwork
Toggl
Trello
Twitter Advanced Search
Uber Suggest
UserTesting.com
Venngage.com
Viddyoze
WordFence (WP Plugin)
WordStream
Workfront
Xtensio
Yammer
Yoast SEO (WP Plugin)
Zapier